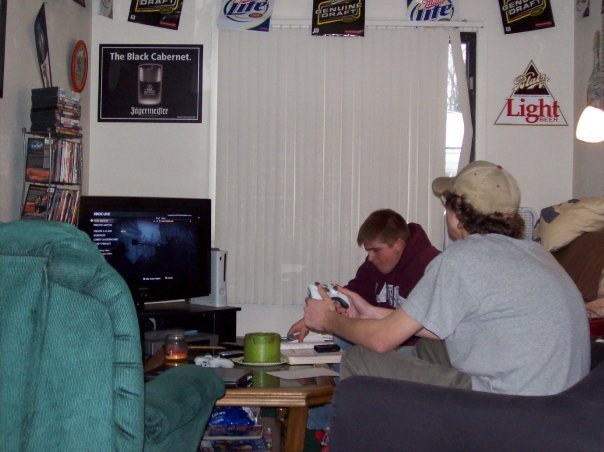 2:57 P.M.
I made it back home after Best Buy and chilled out in my living room again with my friend Evan. We played the newest Call of Duty game on my XBOX360. I was setting up a game at the time of this picture with the white controller in my hand. Evan doesn't live with me, but he is basically our fourth roomate because he is at our house all the time. It's been hard to focus on school lately because Call of Duty has taken over both of our lives.
3:57 P.M.
Here I am in my second and final Monday class. It is Buisness 230 with Professor Sherony. I am taking some notes while at the same trying to sneak in a picture. This picture is crappy I know, but it was the best I could get. We were doing some statistics review, so that we could analyze some of our data that we got from our research project. You will notice to that I am a lefty when I am writing, but I actually do most everything else with my right hand.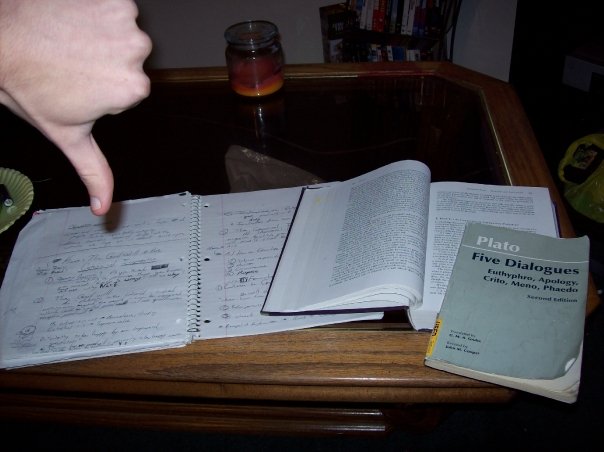 4:57 P.M.
After my buisness 230 class ended, I was at home by myelf, so I decided to try and get some homework done. I read some Aristotle for my philosophy class and took some notes down. I try and review my notes everyday, but it usually doesn't happen. I am giving a thumbs down not because I don't like Philosophy; I just don't like doing homework. I would much rather be sitting on my couch and playing Call of Duty.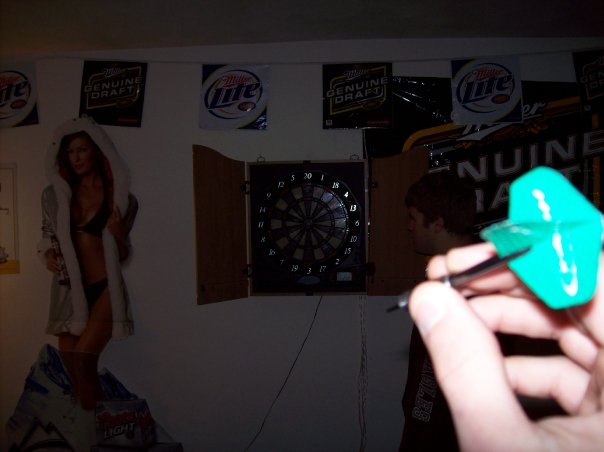 5:57 P.M.
The red head in this picture is my roomate Casey Gray. One tradtion we keep in our place is that we play darts at least once a day. Here I am throwing my third dart in the ass kicking i gave Casey in a game of Cricket. This is another view of my apartment and as you can see we like to hang beer posters. I worked for Miller for two years and got a lot of free stuff, so I figured I should use it. We also have a cardboard cutout of my girlfriend hanging up on our wall.
6:57 P.M.
I'm still in my place just chilling out and decided to get my other roomate involved in this project since he is something of an artist himself. My roomate Snatch ( I don't know how he got that nickname) works for a bar and collects bottle caps from different beers. When he gets enough he gets a piece of wood and some glue and makes these beer pong tables. The entire board is symmetrical with varying different types of beer brands on it. The Texture of the table is really coold to sice there aren't any large gaps between the caps.
7:57 P.M.
The setting here is my room. It is very messy and I almost never clean it because I like it that way. I'm sitting there at my computer doing some more homework. Believe it or not, with my room messy I still never lose anything in there. I have a pretty photgenic memory and can remeber where I put my wallet under a pair of pants. The only poster I have is the one in the picture of the Joker from the Dark Knight. It is my favorite movie and if you haven't seen it, I highly recommend you do.
8:57 P.M.
Here I am at one of my favorite places in La Crosse. It is the Kwik Trip on La Crosse St. Since I had no food in my place, I went to Kwip Trip for some of their delicious hot dogs. I eat anything from Kwik Trip ranging from thier cheeseburgers to Mega Buddies. It is my place to go and get anything I need. I have been there so many times that some of the cashiers actually know who I am and don't even card me anymore when I buy cigars.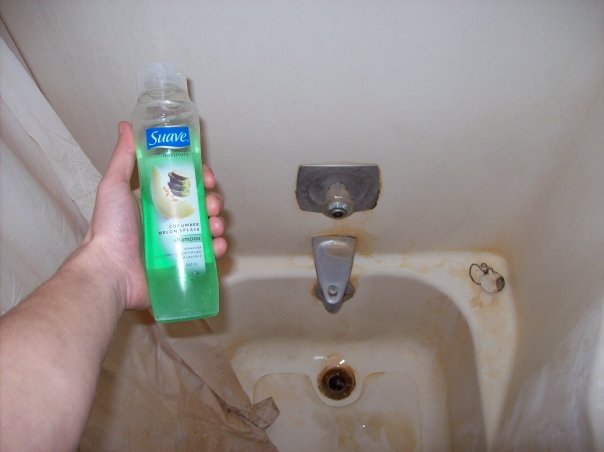 9:57 P.M.
This is my disgusting shower. It is really dirty, but was a piece of shit right when we moved in, so its not really our fault. Yes, this is my second shower of the day, but I got really tired and I knew if I took a nap then I wouldn't be able so sleep at all that night. So, I take showers to wake my self up. I am currently rocking some cucumber melon splash shampoo casue it is cheap as hell.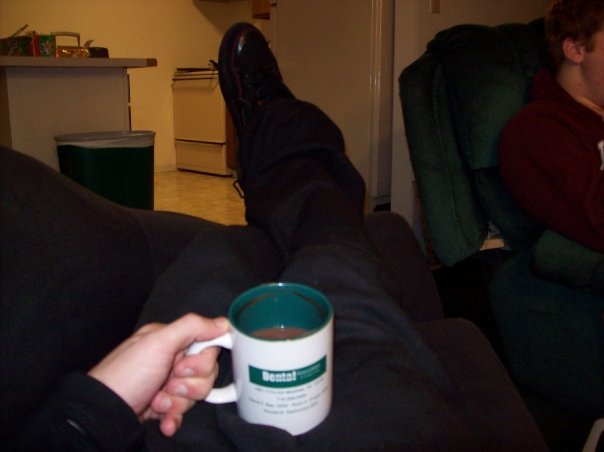 10:57 P.M.
Here I am chilling out on a tiny couch after my shower. I am hanging out in my black sweat suit enjoying some hot cocoa. Most people wear jeans for casual cloths, but since i don't own a pair I stick with sweat pants. The mug I am using is from my dad's dental office which I also got for free. I am also wearing my black basketball shoes which I like a lot too. I feel kind of like a girl becuae I have so many different shoes.
11:57 P.M.
This my final picture of the day right before midnight. I like to listen to music before I go to bed, so I put in Tom Petty and The Heartbreakers Greatest Hits. I threw a new hat on just for flare, but it is still an element skateboards hat so it is cool. So, this is the end of my 16 hour day and I hoped you enjoyed it as much as I did making it.
My Art Page